SJA Students Honored in Vermont Scholastic Art Awards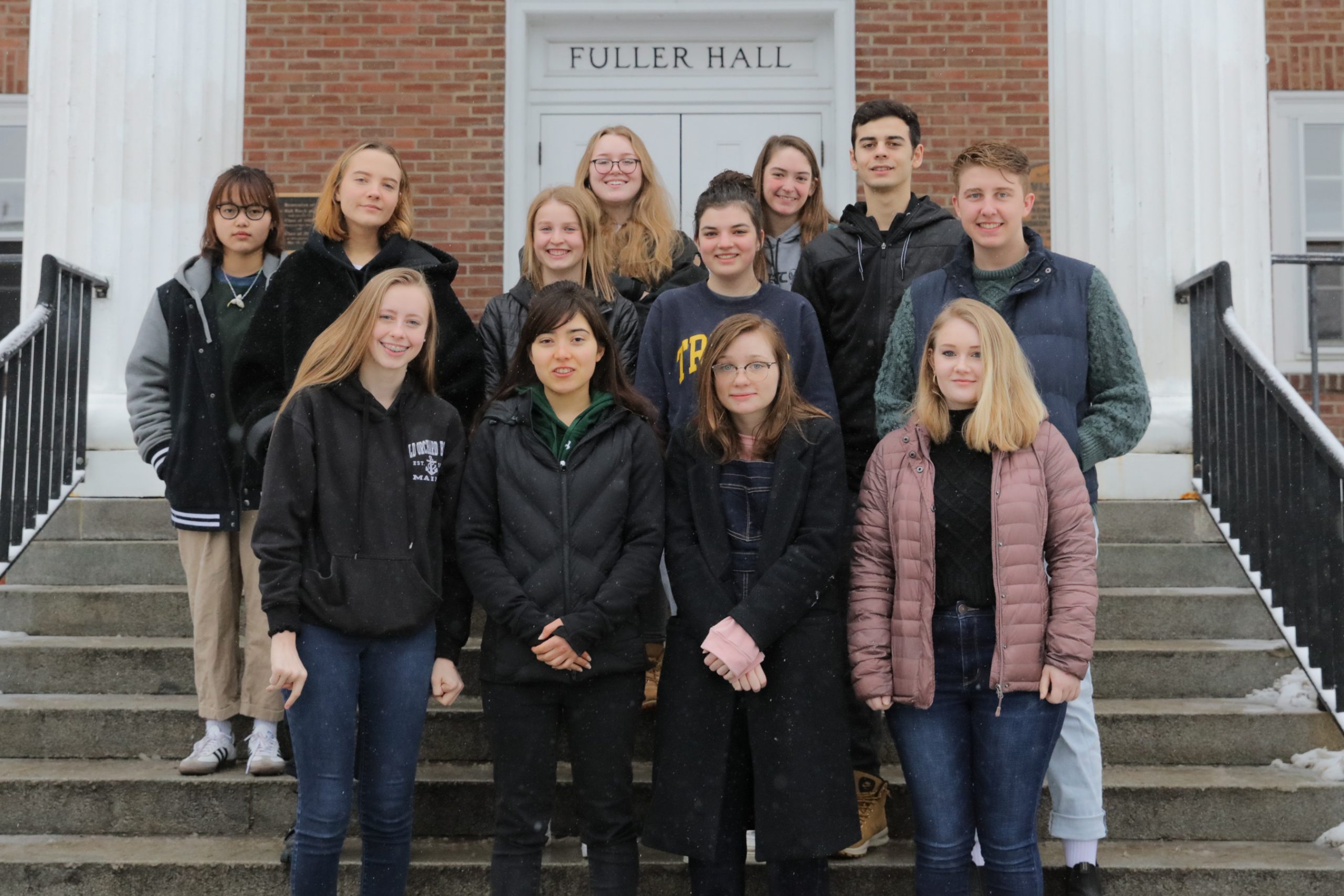 March 2, 2020
St. Johnsbury Academy Fine Arts students won a total of 35 regional art awards in this year's 2020 Scholastic Art Awards. A total of 17 students won awards for their work in Digital Art, Painting, Photography, Film and Animation, Drawing and Illustration, Printmaking, Ceramics and Glass, Poetry, Fashion, Short Story, Science Fiction and Fantasy, or for their Writing or Art Portfolio. They received six Gold Keys, 14 Silver Keys, and 15 Honorable Mentions. In addition, one piece was nominated for American Visions Awards. Entries winning regional Gold Keys will be judged at the national level of the competition in the coming weeks.
Gold Keys were awarded to sophomore Anneke Beth in Painting for Portrait, senior Yinan Lin in Film and Animation for Days Around the Sun (American Visions Nominee) and in printmaking for Firenze, senior Isabella Mertens in Art Portfolio for Connections: Bridges, senior Olivia Robinson in Science Fiction and Fantasy for Night Train and senior Noah Sorin in Poetry for Just a Duck on a Rock, Happiness is Propaganda, The Universe, Pondering Life.
Silver Keys were awarded to junior Jordan Barbour in Poetry for Irrevocable and I Pity the Ghosts Tonight, junior Alexandria Cloutier in Photography of If Only…, junior Kay Conner in Photography for Gabriel's Kiss and If Only…, senior Hannah Dirlam in Photography for Saturday Morning, Isabella Kurtgis in Art Portfolio for If Only These Walls Could Talk, senior Yinan Lin in Art Portfolio for Printmaking, senior Anzhelika Nastashchuk in Poetry for The Remedy For a Broken Heart, senior Olivia Robinson in Science Fiction and Fantasy for Shadows and Cages and Writing Portfolio for Gifts and Callings, senior James Wood in Photography for Never Rebirth–Drug and fashion for Photography Pure Soul — Angel, and Zhou Zhou in Digital Art for Foot Binding.
Honorable Mentions were awarded to senior Jordan Barbour in Poetry for It's All About the Hair and Are You Leaving?, sophomore Anneke Beth in Digital Art for Prologue and Painting for Day Lily, junior Alexandria Cloutier in Photography for Landscape, junior Isabella Coe in Fashion for Elegant Flight (Inspired by the Peacock), senior Hannah Dirlam in Photography for Mirror, senior Yinan Lin in Printmaking for Sculpture and Drawing and illustration for Self Portrait, senior Anzhelika Nastashchuk in Short Story for The Sun and Poetry for Always Rises, senior Olivia Robinson in Science Fiction and Fantasy for Genie in a Bottle, sophomore Cora Stearns in painting for Ball of String, sophomore Issiah Willson in Ceramics and Glass for Bone, and senior James Wood in Art Portfolio for The Portrait.
Head of the Fine Arts department Rosie Prevost said, "Making art, as with any pursuit of excellence, takes time and dedication. Behind that finished piece of art there is a process of practice, trial and error, revisions and reshoots, successes and failures. Congratulations to our students for doing the hard work that is involved in that process of creativity."
Headmaster Tom Lovett said, "To have 21 students honored in a state competition of any kind is a tremendous achievement, and to have so many honors in a creative competition is even more impressive. Our arts faculty can inspire such excellence because they themselves are professional artists. They understand the creative process, hard work, and revision that go into creating great works of art. We are proud of the work that these teachers and students do on a daily basis, and it is nice to see them get public recognition on such a prestigious stage."
The award-winning work is on exhibit at the Brattleboro Museum and Art Center from February 15 through March 7, 11:00 a.m. to 5:00 p.m. daily. An awards ceremony honoring the artists will take place on Saturday, March 7 at 12:00 p.m. The ceremony is free and open to the public.