SJA Students Honored in National Scholastic Art and Writing Awards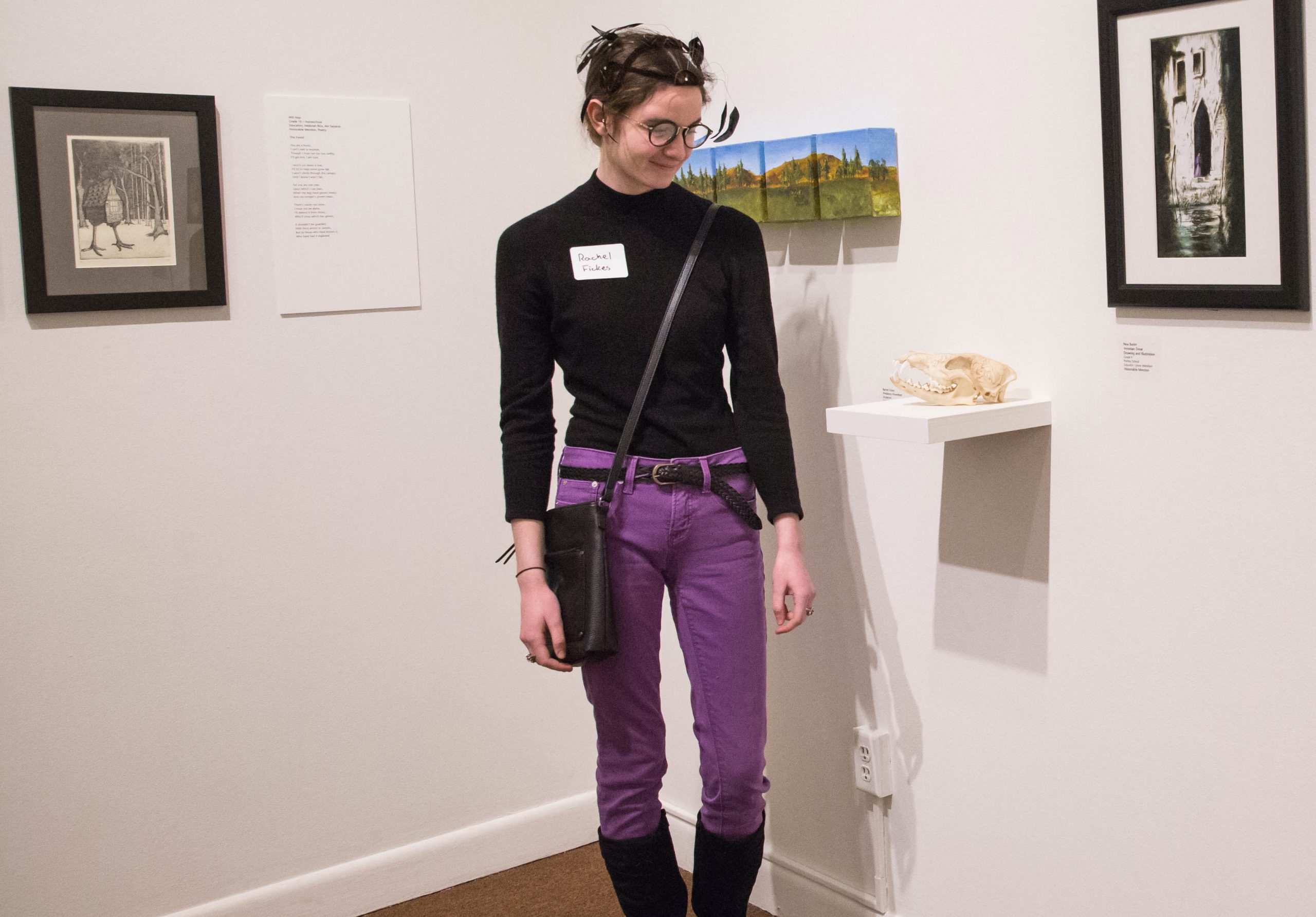 March 19, 2018
Senior Rachel Fickes looks at her sculpture Predatory Flowerbed at the Brattleboro Museum's display of Vermont Scholastic Art and Writing Awards. Rachel's work won a National Gold Medal and an American Visions award.
---
St. Johnsbury Academy Fine Arts students won three National Medals in this year's Scholastic Art and Writing competition; a total of only nine medals were awarded to students across the state, and no other school in Vermont received more than one medal.
Senior Rachel Fickes of Peacham received a National Gold Medal and an American Visions Award for her sculpture Predatory Flowerbed. Rachel's sculptures are made from the bones of animals, in which she carves designs with dental tools. Senior Marion Ely of St. Johnsbury won a National Silver Medal in Photography The Lovers. Finally, Senior Patrick Nkubito from Rwanda won a Silver Medal in Painting for First Oil Painting.
Acting Head of the Fine Arts department Janet Warner-Ashley said, "All three of these students spend large parts of their lives in the Morse Fine Arts Center. They embody the pursuit of excellence, and their gold and silver medals are a great recognition of their talent and hard work. For anyone who has ever been to a dentist, the sound of Rachel's drill as she was creating her piece was frightening. It took her hours to create each small petal in her Predatory Flowerbed, but she is also found designing costumes and singing with the Hilltones. Patrick is a wonderful painter, but he also works on drawings and costume designs each day in Morse. Marion spends hours shooting photographs and then more hours in the darkroom developing and printing, but she can also be found drawing and painting. Morse is home to lots of talent, but these three are exemplary illustrations of what it takes to be a young artist."
Headmaster Tom Lovett said, "The number of awards earned by our artists in the previous stages of this competition was impressive, especially the number of Gold Keys. This new national recognition would be noteworthy if it were given to only one artist, but to have three from the same school speaks volumes about the talent of both our students and their teachers. Their families should be very proud.