The Best Private Schools have these 7 Things in Common
The process of identifying the best private or boarding school for your child is not one to be taken lightly as it impacts not only their present educational experience but also their future success.
In this article, we will review the top seven things that the best private schools have in common. We'll also expand each of these areas to address key questions that parents ask and others they should be asking.
As a result of reading this article, parents will have greater clarity and be better equipped to further research and select the best private school for their child.
 
Table of Contents
3. Small Classes and Ability Grouping
4. Extracurricular Activities and Sports
5. Boarding School Opportunity
6. Funding from Tuition and Donations
1. College Prep
As a child is transitioning from adolescence to young adulthood, the best private schools play an instrumental role in partnering with parents to set their child up for success in college. Each school distinguishes itself based on the extra measures taken and additional opportunities made available to students.
How does private day or boarding school prepare your child for college?
Many aspects of private day and boarding schools prepare students exceptionally well for college. Challenging academics, high expectations, and a focus on independence, and time management skills all combine to allow most students an easy college transition.
Academically, private schools are challenging by design. Students can take honors-level or Advanced Placement (AP) classes, many of which allow them to earn college credit. This high-level course work gives students a head-start when entering college since they're already used to the amount of work necessary to succeed in a college-level course.
Teachers in private schools have high expectations of their students and are willing to put in the time necessary to help them succeed. Since many boarding school teachers live on campus, they are often coaches or mentors and are available evenings and weekends to help with school work if students need them.
Students in boarding school often have an easier transition to college because they are used to being independent. They are responsible for things like getting up on time, finishing their homework, getting to class and other activities on time, and even doing their laundry, all without the support of their parents. When they arrive at college, all of these routines are already second nature, and they can concentrate on their studies.
Most private and boarding schools offer many sports and activities outside the school day. Students often take part in an interscholastic sport, which requires daily practices, or activities such as Science Olympiad or FIRST Robotics, which require involvement after school and on weekends in preparation for competitions. All of these extra activities develop strong time-management skills in students, which gives them an edge as they enter college.
How can your child receive college credit?
There are many options in private day or boarding schools for students to receive college credit including dual-degree programs, International Baccalaureate, or Advanced Placement programs, among others. In a dual-degree program, a school partners with a college, which allows certain courses to carry college credit. Both International Baccalaureate and Advanced Placement programs culminate in a final exam, which if passed, results in college credit. Whether these credits are accepted varies from college to college and is something students and parents should consider during the application process. Some students begin taking AP exams during their sophomore year, but courses offering college credit are more typically taken during a student's junior or senior year.
St. Johnsbury Academy, for example, has a number of course options that can result in college credit for students. It offers a dual enrollment program with Southern New Hampshire University that results in college credit upon successful completion of the course, many AP courses, and the AP Capstone Diploma program.
How do Advanced Placement courses work?
Advanced Placement courses have long been the gold standard for college credit earned in high school. Students enroll in an AP course at their school, and are awarded college credit at most colleges upon achieving a passing score (3 or higher) on the AP exam. These courses are generally very challenging and ready a student for success in college.
To give you an example of the variety of AP courses a private school can provide, St. Johnsbury Academy, along with other quality schools, offers AP courses including:
AP Capstone Program
Biology
Calculus
Chemistry
Computer Science
English Language and Composition
English Literature and Composition
Environmental Science
European History
French Language and Culture
Japanese Language and Culture
Microeconomics
Music Theory
Physics
Psychology
Spanish Language
Statistics
Studio Art
U.S. Government and Politics
U.S. History
With AP courses, a student can challenge and accelerate their learning in specific areas of interest.
How can your child explore career options and find out what they love?
Private day and boarding schools have the resources to offer programs that go above and beyond the basic state requirements of secondary school. Whether it's art, math, science, robotics, culinary arts, creative writing, etc., the depth of special programs at private schools give students a chance to explore career interests in a meaningful way while still in high school.
St. Johnsbury Academy, for example, offers a large number of Signature Programs, which allow students to explore fields of study or careers. From high-level math to the SJA Field Semester, from the culinary arts to fashion design, its Signature Programs ignite passion within students, often leading them to pursue careers in fields first explored in high school.
2. Quality Education
The pillar of strength for which the best private schools are renowned is the outstanding quality of education consistently delivered year after year. The importance of a quality education cannot be emphasized enough.
The Wall Street Journal writes, "One of the largest factors in college admission, and a determinant of one's chances for personal and professional success overall, is the quality of high school one attends."
How do you determine the quality of education a private school offers?
Quality in education can be hard to quantify as it is made up of many different factors. To add to the confusion, parents and students looking for solid data often depend on review sites, which can be misleading and should therefore be taken with a grain of salt. For example, review sites that allow students to list the colleges they'd like to attend as part of an overall "score" aren't using real data about a school because students aren't providing information about colleges they are actually accepted to or are attending. Additionally, sometimes negative reviews are left by students in the heat of the moment when they may or may not mean what they are writing.
A good place to start when trying to understand the quality of education offered by a particular school is by looking at the numbers. For instance, ask about students' SAT scores and what colleges students attend.
Perhaps the most important aspect to consider when trying to determine educational quality is whether the courses offered by the school are challenging. In taking a closer look at this, you may want to find out the following:
Are strong academic students working hard in their courses?
Are there various levels of courses available on a given subject?
Are courses available that award college credit, such as AP courses?
Another important factor in determining the quality of education is examining the quality of the faculty. Considerations may include the following:
Are they well-qualified, holding advanced degrees, even doctorates?
In addition to their formal qualifications, do they love kids?
Are faculty members passionate about what they teach?
The breadth of courses offered at a school is another thing to consider. You may want to do further research to determine:
If a student is interested in art or music, does the curriculum support his/her area of interest adequately?
Are there high-level math classes?
If a student is interested in writing, are creative writing courses offered?
What extra-curricular activities are available?
Are there plenty of opportunities for students to do what they love outside of classes?
Finally, private schools, and especially boarding schools, encourage academic excellence through association with students who have similar aspirations. At boarding school, it really is cool to be smart.
SeattlePi sums up the importance of the quality of education well: "Excellent private secondary schools provide richer educational curriculum to capture the abilities of each student. The small classroom style, individualized attention, highly qualified staff and the accommodative learning environment in prestigious pre-college schools set the students' journey into the best colleges. Their aim is to enhance academic excellence by nurturing a culture of learning, creativity, social growth, talent realization through a student-centered approach to education."
By looking carefully at the factors mentioned above, parents and students can get a good idea about the quality of education a school offers and be assured of the academics and support needed to work toward their future goals.
3. Small Classes and Ability Grouping
Many private schools can better accommodate one's learning needs by offering smaller class sizes and ability grouping.
How does class size affect learning?
Research shows time and again that small class sizes affect learning outcomes in the classroom. A few examples include "Why Small Class Sizes Work" on boardingschoolreview.com, and "The Benefits of Smaller ClassesPDF download" and "The Importance of Class Size in the Middle and Upper Grades" on classsizematters.org.
Smaller classes allow students individualized attention within their classes; teachers are also better able to get to know their students. Ideally, classes should comprise fewer than 15 students so that those students fully benefit from their interaction with their teacher. At St. Johnsbury Academy, for example, classes are capped at 15 students reflecting the value placed on student-teacher engagement. The student-teacher ratio at the school is 8 to 1.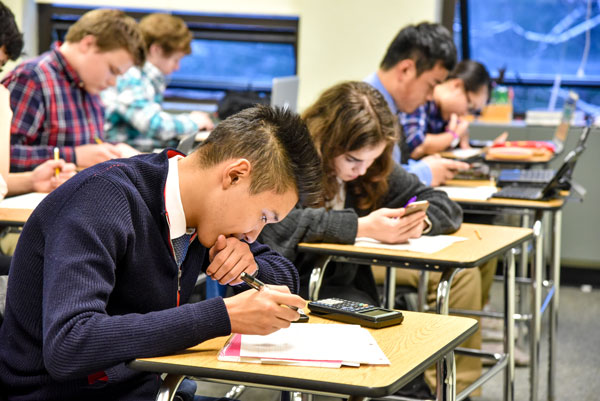 What is ability grouping?
Another important tool used by private schools to appropriately challenge their students is ability grouping. Students are placed according to their ability in a subject with peers of similar ability so that they will learn in the best situation possible. Unlike tracking, which can result in a student finding it difficult to move up or down based on their success in a subject, ability grouping is flexible. As a student becomes more comfortable with math, for example, they are able to move from a basic math class to a standard or even accelerated math class. Students are not pigeon-holed based on where they begin.
4. Extracurricular Activities and Sports
Participation in extracurricular activities and sports prepares students for life after high school and enhances competencies beyond the scope of classroom learning.
What impact do extracurricular activities and sports have on student achievement?
These activities teach students to be part of a team, and that the most successful teams are those that work hard and play to their members' strengths. Whether students are on a Robotics team, a Science Olympiad team, sing with a chorus, play with a jazz band, run cross-country, ski race, or participate in a traditional team sport like soccer or basketball, they learn to work together and support their teammates.
Boarding schools stand out for their exceptional sports and extracurricular programs. A sport or afternoon extracurricular activity is often a requirement for students, encouraging them to get involved and be part of the larger school community. As Newsweek recommended in an article, "Look at their arts and sports programs when selecting a school; they are invariably much more comprehensive, and their importance cannot be undervalued. They teach students valuable life skills such as teamwork, responsibility and confidence — things you cannot learn from books and blackboards."
Many extracurricular groups allow their members to travel, sometimes across the state to a competition and sometimes across the world on an international trip. Students have the opportunity to put on plays, fashion shows, compete as a member of Scholar's Bowl, or be a "mathlete" and compete against schools across the country in an on-line math competition. These students represent their school proudly, displaying maturity and poise and learning to get along with others as they travel or compete. These groups enhance achievement and introduce students to interacting with people and even cultures that are different from their own.
And with successful sports teams comes school spirit, and with school spirit comes fun. Some students' favorite memories are of homecoming weekend, trips to championship basketball games, or cheering on their friends in a home soccer or lacrosse game. These memories last a lifetime. Traditions vary from school to school; at St. Johnsbury Academy, for example, we celebrate one of the longest standing rivalries in high school sports, our annual football game against our neighbor to the north, Lyndon Institute. With 48 interscholastic and additional intramural teams, there is room for everyone to get involved and benefit from everything athletics has to offer.
5. Boarding School Opportunity
The opportunities offered by boarding schools often outshine those of public schools. Boarding schools are funded differently, leaving more room for the arts, specialized academic programs, extracurricular activities, and in-depth course work. Classes are small and diverse, and students live with peers who become their lifelong friends.
What are the advantages of a boarding school versus a public school?
Diversity of the Student Body
One of the biggest advantages of going to boarding school, especially in New England, is the diversity represented within the student body. Boarding schools carefully select their students from many states and countries. For instance, the students attending St. Johnsbury Academy generally represent nearly 30 countries and 25 states. The benefits to both international and U.S. students are many: they learn to be empathetic toward cultures that are different from their own; they learn how to communicate with people who do not speak English as a first language; and maybe most importantly, they learn that their similarities with people from other cultures are much greater than their differences. Greatschools.net points out that, "Students who attend schools with a diverse population can develop an understanding of the perspectives of children from different backgrounds and learn to function in a multicultural, multiethnic environment."
Close-Knit Relationships with Faculty and Fellow Students
The community that is built at a boarding school is very different from that of a public or day school. Faculty members not only teach, but also work as dorm proctors, tutors, and mentors, chaperone weekend trips, attend sporting events, and are generally part of the life of campus. Because of this, students forge strong relationships with faculty that often last into adulthood.
Similarly, students forge very close ties with other boarding students with whom they spend so much time, making life-long friendships.
See Related: Campus Life
Athletic and Art Facilities
The athletic and art facilities at boarding schools are exceptional. For students pursuing athletics, boarding schools are likely to have multi-building athletic complexes that might include a number of indoor practice facilities in addition to outdoor fields and courts. St. Johnsbury Academy is home to a gymnasium, field house with three basketball courts, weight and cardio rooms, and a competition-sized pool.
The art facilities at boarding schools are also impressive. Many schools have a stand-alone art building, which might include classrooms for many art genres: drawing, painting, pottery and sculpture, photography, music, printmaking, and even a small theater.
Superior Academics
Boarding schools provide excellent educational opportunities to a wide range of students. Larger schools often offer more than 200 courses, which include many Advanced Placement or Honors courses, pre-professional visual and performing arts courses, engineering and robotics courses, and a number of foreign languages. At St. Johnsbury Academy, for example, we also offer technical education courses ranging from Culinary Arts to Fine Woodworking in our on-campus technical education center.
Small Classes
It is a well-known fact that smaller class sizes produce better student outcomes. Boarding schools offer very small class sizes. In addition, boarding schools often offer excellent academic support. All students, regardless of academic level, homework habits, or previous academic challenges, are provided with the resources to excel. Additionally, at St. Johnsbury Academy, we are highly successful in assisting students who require help with organization and study skills, or whose diagnosed learning disability creates the need for specialized assistance, remediation, and classroom accommodations. We offer a Study Skills program for freshmen and upperclassmen in which students learn tactics to successfully approach studying and complete their homework in a supported setting. Our Guided Studies program provides intensive academic support, with emphasis on any remedial needs, to students who have struggled with their schoolwork in the past. Trained support staff partner with faculty in both Study Skills and Guided Studies to help students navigate the pressures of high school and fulfill their academic potential.
Guided Responsibility
Young adults heading off to college often find themselves with more independence and responsibility than they are able to handle. They go from living comfortably at home with few responsibilities to living in an apartment or dorm room where they are virtually independent. This often results in a difficult adjustment period during which students underachieve in college, sometimes even dropping out. Boarding school helps students avoid these issues by gradually giving them much more responsibility than they would have at home, while at the same time supplying mentors, rules, and structure as they grow into their new adult roles.
6. Funding from Tuition and Donations
Private schools are funded differently from public schools, depending on tuition, endowment income, and donations from alumni and other individuals for their funding. Well-funded schools offer smaller classes, more academic course offerings, more extracurricular opportunities and better resources. As is stated in an article by The Wall Street Journal, "Likely the biggest factor contributing to the differences in educational quality between private and public schools, as well as the disparity in quality among private schools, is funding."
How do private schools use tuition and donations?
Private schools fund their operations in a number of ways including tuition, donations, and endowment interest income. Many schools use tuition and endowment income to fund day-to-day operations. Endowment income is also often used to fund financial aid. Donations by alumni and friends are used for different purposes at different schools. They may fund a program or infrastructure improvements such as a new building or renovations to a current building. Having an endowment that produces interest income allows private schools to enhance student opportunities beyond what could be paid for by tuition and donations alone.
Some schools, such as St. Johnsbury Academy, are independent town academies. As such, the school is funded in part by tuitions paid by towns that do not have their own high school. These schools have educated students successfully in this way since the 1800's and have long been a part of the Vermont landscape. In towns that tuition students, families have the choice of which high school they decide to send students to, resulting in families considering a number of schools and deciding which is right for their child.
How does the new tax law affect my ability to use 529 funds to pay for tuition?
The new tax bill going into law in 2018 will benefit parents sending their children to private schools. Parents can now take up to $10,000 in distributions annually from their 529 plans to pay for tuition. Parents interested in taking advantage of this opportunity should consult their tax professional for details.
7. Financial Aid
Although many parents may want to send their child to private school, it may not always be affordable. Many private schools offer some form of financial assistance, although it varies from school to school.
How can I afford to send my child to private school?
Private day and boarding schools seek to enroll students of strong academic potential, good character and diverse backgrounds from families that understand and share the values of the school, regardless of their finances.
Different schools have different levels of financial assistance available, but all make an effort to help whenever possible for the benefit of the school.
Generally, schools ask whether a student is applying for financial aid at the same time they apply for admission. Some schools are "need blind," accepting qualified students without taking their financial needs into account; most schools are "need aware," considering both a student's qualification and financial need as part of the admission decision. Schools generally have very limited financial aid funds available for international students. Most schools use an independent service to gather information on parents' ability to pay such as School and Student Service for Financial Aid (SSS) or Financial Aid for School Tuition (FAST). Student financial aid is funded from a number of sources, namely endowment income, individual donors, or other funds that are put aside for this purpose.
Some private schools offer different forms of financial assistance. As an example, St. Johnsbury offers an innovative option called the Good Neighbor Program. To qualify for the Good Neighbor Program, families simply have to live (or own a vacation home) in Vermont, New Hampshire, or Quebec. Since this program reduces tuition for these families, there are no income guidelines taken into consideration.
In conclusion, the best private schools prepare their students for success in college and in life, provide quality education and small class sizes, expand the learning experience through exceptional extracurricular activities and sports, utilize tuition and donations to enhance the student experience, and offer financial aid. Finding the best fit for your child is a process of researching and asking the right questions to discover what school best meets your individual needs.