Students Recognized for Accomplishments at Harvard Model Congress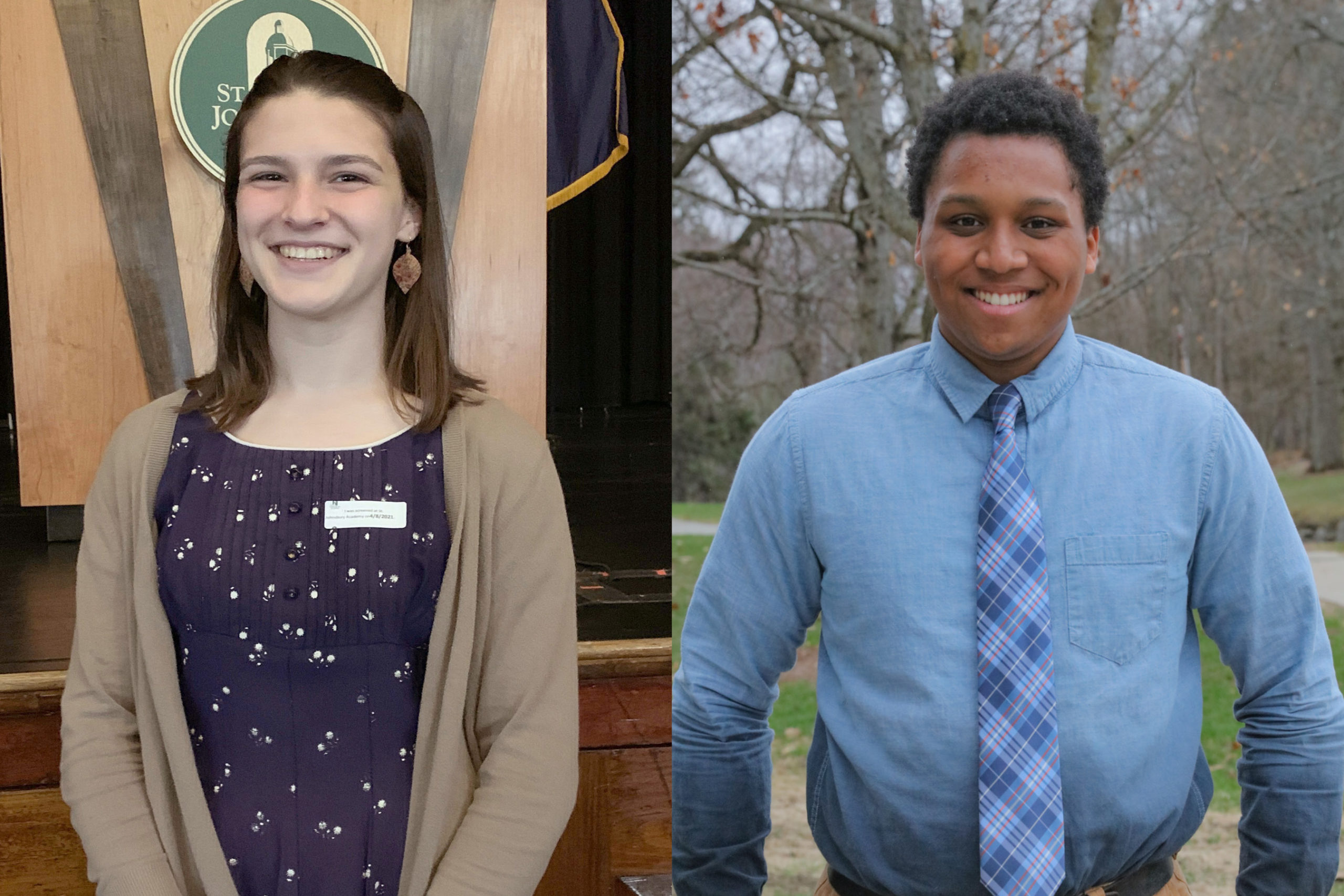 April 20, 2021
Two St. Johnsbury Academy students have been recognized for their accomplishments at the Harvard Model Congress, held virtually in February. Junior Payton Molleur of Greensboro Bend, VT, and Brooke White, of East Ryegate, VT, received honorable mention for their work. Harvard Model Congress (HMC) is an annual three-day simulation of the United States Government, held in Boston, MA.
During the event, the students immerse themselves in government, writing bills, negotiating treaties, and deciding major Supreme Court cases. According to the Harvard Model Congress website (harvardmodelcongress.org), "HMC presents a unique opportunity for high school students to engage with American government through role-play and simulation in order to develop a better understanding of civic involvement and government function. Through a variety of congressional committees covering a broad spectrum of pressing federal issues, and a diverse collection of Special Program committees highlighting other aspects of the US government, HMC strives to provide a stimulating learning environment that fosters individual growth and group education.
Unlike other conferences, HMC requires students to assume the role of real-life congressmen, senators, and members of government, forcing them to expand their perspectives and to understand the issues at hand in a new, more nuanced way."
Payton served as an administrator of the SBA (Small Business Association), and Brooke served on the Senate Judiciary Committee as Dick Durbin D-IL. For preparation, Brooke studied "two briefing topics of capital punishment and gerrymandering in the months leading up to February and spent time reviewing statistics and court cases regarding the issues, as well as composing speeches on each topic to submit to the Chairs" of her committees.
Other students who participated were Henry Heilman, who assumed the role of Cory Gardner (former) R-CO on the Senate Foreign Relations Committee, David Goodwin III as Angus King I-ME- Senate Intelligence Committee, Peter Bergman as an Ambassador to the UN, and Emma Powers with the Supreme Court where she acted in the roles of petitioner, respondent, and associate justice through four complex cases.
Social Studies teacher Lucas Weiss, who serves as the group's advisor, said, "One thing I noticed in my drop-ins to the meetings was just how committed to their roles our students were. They worked carefully to accurately portray their assigned political figure, whether or not they agreed with that particular figure's ideological positions."
For Payton, the best part of the event "was meeting other people who are interested in similar subjects as I am, that being government and economics." His favorite part was "learning about investment in, and assistance to, poor and marginalized communities. I'll also say that I wound up learning a lot more than I expected to, and it was a wonderful experience. Not just carrying out the role of SBA administrator in the Cabinet, but outside of the committee as well." 
Brooke was intrigued by the chance to learn more about law and politics. That led to her favorite part of the weekend, participating in an Unmoderated Bipartisan Caucus to write bills. "This was an opportunity to engage in free discussion with peers who were representing senators on both sides of the aisle, meaning that Democrats and Republicans alike had to collaborate in order to
construct a potential change to the legislature."
She continues, "For me, one of the most significant elements of the seminar was going through the processes of Parliamentary Procedure. This offered me an opportunity to see the truly tedious method of proposing reforms. Attending HMC heightened my understanding of why proceedings in government are seemingly idle for so long. I think that this new insight will allow me to become a more educated voter in the future. Witnessing the innovative and professional interactions between students from across the United States, of all different opinions and backgrounds, gives me hope for my generation's eventual entry into politics."
Brooke was hesitant at first about the effectiveness of having the event entirely online but was impressed with the social bonds that developed after only three days of collective debate and decision-making. Despite that, she looks forward to participating in person in the future.
Brooke has a message for her classmates about the experience, "I am grateful to have taken that risk, and would encourage all Academy students, my freshman peers especially, to reach out if something in the morning announcements strikes their interest. Not only did it surface a remarkable experience, but it also bolstered my confidence by providing an opportunity to interact with other people my age from outside of Vermont."
Headmaster Sharon Howell said, "We are so impressed with the way all of these students seized the opportunity to learn by immersion in this set of relevant debates.  That kind of in-the-moment challenge teaches as few other exercises can. If students such as Payton and Brooke ever go into politics (and even if they just take on leadership roles), not only will they value the process of working toward a common goal—they will have already done it."