Girls' Basketball Team Wins Division I Vermont State Championship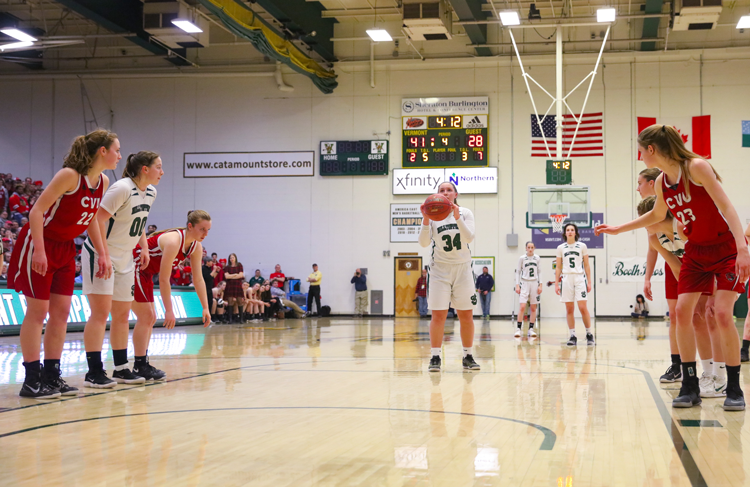 March 22, 2018
The girls' basketball team beat CVU to win the Division I Vermont State Championship.
---
THE AVENGERS: Choiniere, Hilltoppers end Redhawks' reign
By Michael Beniash, Sports Editor
BURLINGTON — Josie Choiniere changed her socks.
Then she changed the game.
The superstitious sophomore guard traded in her traditional black socks for a white pair, and proceeded to knock the socks off Champlain Valley Union.
Choiniere tied her season-high with 23 points — the most in a Division I final since 2007 — as top-seeded St. Johnsbury Academy ended the Redhawks' five-year reign with a resounding 48-33 victory in Sunday afternoon's championship game at Patrick Gymnasium.
"Josie Choiniere, holy cow," said St. J teammate Neva Bostic. "She wore her new white socks today it definitely helped. She was insane."
The triumph was sweet redemption for the Hilltoppers (22-2), who avenged their 36-33 loss to Champlain Valley in last season's title game, ended the Redhawks' 22-game playoff win streak and seized their first title since winning as a 12 seed in 2010.
"CVU is a trigger for us," said Choiniere, who added a team-high seven rebounds and six steals. "We just had so much motivation to beat them. They are a great team, they have a great coach, but this was the one game we wanted."
"They've been the standard in Vermont for a number of years now," said 24th-year SJA coach Jack Driscoll of the second-seeded Redhawks. "For us to beat them today makes this championship a little more special."
It was a special afternoon of basketball for the Hilltoppers, who executed their game plan with brilliance. They played with poise, energy and confidence from the outset, shooting 48.5 percent from the floor, forcing 17 turnovers, handling the taller CVU squad on the glass (24-all in rebounding) and limiting the Redhawks to 30.8 percent shooting.
"We've been talking about having our best game of the year since getting on the bus to leave the Rice game [after Wednesday's semifinals]. To come back and make sure that this last game was our best one, the kids did a pretty darn good job," Driscoll said.
St. J bolted to a 16-4 advantage, led 23-11 at halftime and built a 19-point lead late in the third before coasting to the finish line.
"Everyone did great things," said junior guard Sadie Stetson who collected 10 points, five rebounds and four assists. "Everyone played together. It was one our best games of the season."
And Choiniere got them going.
Despite missing her first shot of the contest — a floater in the paint that hit nothing but the backboard — the sharp-shooter hit her next five shots of the first half, four coming from distance.
She splashed back-to-back triples from well beyond the 3-point line to cap an 8-0 run in the first quarter. Later in the frame, Choiniere followed lone senior Kayla Matte's triple with her third 3 of the quarter to put SJA up 16-4. She added a baseline floater in the second quarter and then hit her deepest 3 of the game with 2:40 left in the half that gave the Hilltoppers a 23-9 cushion.
Choiniere, who also had 23 points in a first-round win over Middlebury and averaged 19 points in four playoff victories, finished 6 of 8 from the floor (4 of 5 from 3) and hit 7 of 9 foul shots.
"Josie was on fire," Stetson said. "If she's on fire we give it to her and she'll shoot from anywhere. We trust her. It was great seeing that."
"For a sophomore to come out and be that aggressive offensively in a championship game says a lot about her competitiveness as a basketball player," Driscoll said. "She's been hitting those shots all year, but to come here and do it in this venue in a championship situation put an exclamation point on the season for her.
"We needed everybody today. The message in the locker room was to be aggressive offensively today and she clearly heard that message."
Maryn Askew had 13 points to lead the Redhawks (21-3), who were playing in their eighth straight championship game.
"St. J played really, really well," CVU coach Ute Otley said. "I tried to come up with one thing they didn't do well today and I can't really come up with anything. They executed their game plan better than we did. That's the reality."
Unlike previous matchups, including the Hilltoppers' regular-season, confidence boosting victory over CVU on Feb. 8, SJA didn't fall behind early. The Redhawks did on Sunday, and couldn't quite recover.
"St. J is very difficult to play from behind, everybody knows that. It's the worst-case scenario because now you have to get out and it creates a lot of holes," Otley said.
Bostic finished with eight points, six coming in the third quarter in which she scored on three great drives to the hoop and blocked a shot, while forward Saleena Porter, who hounded CVU's posts on defense, had four points and five rebounds in 28 minutes for the Hilltoppers.
"This was our last game and we had to just had to leave it all on the court," Chioiniere said. "We've all worked so hard as a team and I was just thinking about my team and my coach and how we wanted to get this one game back all season. This is what we've worked for and we finally accomplished it today."
This title will be remembered for a long time in the Northeast Kingdom and around Vermont: the day the Hilltoppers slayed the juggernaut Redhawks.
"It feels amazing. As a team, we were the people that were able to do it," Choiniere said. "We've never been so happy."
NOTES: Choiniere's point total was the third most since the D-I final moved to Patrick Gym in 2003. … It's St. J's sixth girls hoops title and second in D-I (they won four in D-II). They are 6-1 in championship games.
ST. JOHNSBURY 48, CVU 33
CVU (21-3): Harper Mead 3-0-7; Lindsey Albertelli 2-0-4; Shannon Loiseau 2-0-4, Catherine Gilwee 2-0-5, Maryn Askew 3-0-13. Totals: 12-FG 6-8-FT 33.
STJ (22-2): Saleena Porter 2-0-4, Kayla Matte 1-0-3, Sadie Stetson 4-1-10, Neva Bostic 3-2-8, Josie Choiniere 6-7-23. Totals: 16-FG 10-13-FT 42.
CVU 7 4 11 11 — 33
SJA 16 7 13 12— 48
3-Point: C 3 (Mead, Gilwee, Askew), S 6 (Matte, Stetson, Choiniere 4). Fouls: C 14, S 8.
Visit caledonianrecord.com for more SJA sports stories.