Boys' Basketball Wins Championship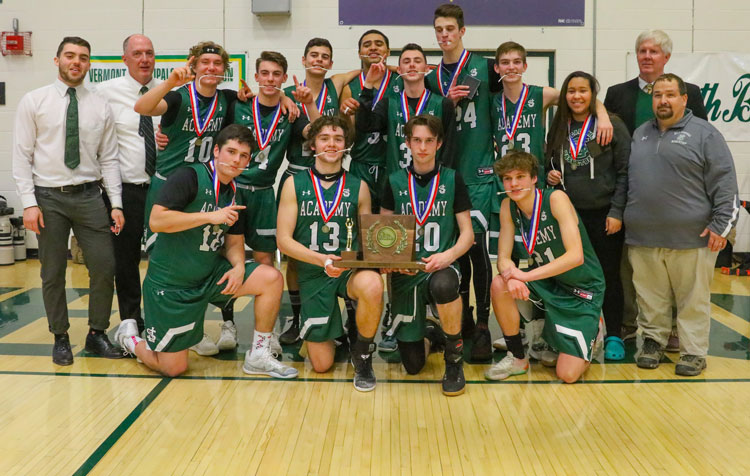 March 18, 2019
The Vermont Division I Champion Hilltoppers
---
Article courtesy of Michael Beniash/Caledonian-Record.
TOP OF THE WORLD: Carlisle, Hilltoppers dethrone Rutland, rise to first championship since 1997
Mar 17, 2019
BURLINGTON — Special.
The word was thrown around plenty in the joyous aftermath of St. Johnsbury Academy's 54-50 triumph over Rutland in Sunday's Division I boys basketball championship.
Alex Carlisle was certainly that on St. Patrick's Day at University of Vermont's Patrick Gymnasium.
The senior guard delivered a quintessentially special performance in his final high school game, finishing with 24 points to lead the Hilltoppers to their first state title since 1997.
It was the most points in a D-I final since Mt. Mansfield's Matt Glass poured in 27 in 2005.
"He just proved he's a special player," said fourth-year SJA head coach David McGinn. "Big players step up in the biggest games."
Fourteen of Carlisle's points came in a scintillating third quarter — finishing at the rim and from distance — to keep St. J within striking distance of the Raiders, who were vying for their third consecutive championship.
"That's what he's capable of," said teammate Logan Wendell, who finished with eights points (6 of 8 at the foul line) and 10 rebounds. "He's capable of playing like that on any given night and seeing him do it on the biggest stage is pretty special."
Asom Hayman-Jones scored 12 points and hauled in nine rebounds for the Hilltoppers, who got key contributions up and down the starting five.
They pulled away in the fourth quarter to avenge last year's semifinal drubbing to Rutland, grabbing their first championship in 22 years and joining the Academy girls in making it a Hilltopper hoops sweep.
It marks just the eighth time a school has swept the D-I boys and girls titles (and fourth different program — Rice 3x, Essex 2x, Mt. Anthony 2x).
In other words, a special ending to a special season.
"It's hard to describe," Wendell said. "I moved here in sixth grade and first teamed up with Nick [Guckin], then Alex. This is something we've dreamed about since then."
Wendell hit a pair of free throws at the 6:41 mark of the fourth quarter, giving St. J its first lead of the game since early in the opening frame. After a Jacob Lorman layup that gave Rutland a 42-41 lead, Hilltopper center Andrew Cowan's layup on a feed from Wendell gave SJA the lead for good, 43-42.
After an empty Rutland possession — one of many in the fourth quarter for the Raiders — Guckin splashed a 3 from the corner to give St. J a 46-42 lead.
A Hayman-Jones bucket made it 49-45 and two more foul shots, one each from Wendell and Guckin, made it 51-45 with 58 seconds left. It wouldn't get closer.
"Their will to win is pretty impressive," Rutland coach Mike Wood said. "I thought we ran out of gas. They had that extra kick at the end that we usually have, we just didn't have that today. That's not for lack of effort or heart, they just had a little more in the tank, I thought."
The Hilltoppers become just the third No. 5 seed to win the D-I crown (joining the 1982 champion Hilltoppers and Burlington in 1973).
"I think we had this in us all year," said Carlisle, the four-year player who reached 1,000 points this winter. "We played down to our competition sometimes. We had some off nights when we weren't playing like a championship team. But we've been playing likes this all year in the games that mean the most."
Evans tallied 14 points and eight rebounds for Rutland, though he didn't find much success scoring against Hayman-Jones, the Hilltopper big man who played outstanding defense [without picking up a foul] all game long on the 6-3 guard. Evans finished 3 of 14 from 3, and 5 of 20 from the field. The Raiders shot 8 of 30 from beyond the arc.
Lorman, meanwhile, the other half of the Raiders dynamic backcourt, finished with 12 points on 5 of 20 shooting for RHS. He scored eight in the first two quarters to lead the Raiders to a 24-20 halftime lead.
Sunday afternoon, however, belonged to Carlisle and his Hilltoppers.
The 6-foot-1 guard shot 9 of 16 from the floor, including 5 of 8 from the foul line, and added eight rebounds, three assists and two blocks in 32 minutes.
"Last night, I visualized playing here, getting to the rim and getting my shots to go," Carlisle said. "But I came in here thinking today that I would do what I could do to help the team."
Early in the second half, a referee's whistle lit a fire under Carlisle.
Midway through the third quarter he put a nasty spin move on Evans in the paint, then scored at the rim, but the highlight reel play was disallowed, a traveling violation called on Carlisle.
"That call really pissed me off," he said. "But that got me going. I didn't think he [Evans] could stay in front of me and and he couldn't, so I just kept going to the hoop."
He reeled off 10 of the next 11 Hilltopper points, including going coast-to-coast for a layup at the buzzer to draw St. J within one — 38-37 headed to the fourth — and gave the Hilltoppers' the momentum they needed.
It capped a spectacular postseason for Carlisle, who averaged 22.3 points per game, had a thunderous two-handed dunk in traffic to jump-start the quarterfinals, and a game-winning 17-foot jumper to beat Rice in the semifinals.
"Just a different energy," he said of the playoff run. "Just knowing that it's win or go home, we just had to bring it."
The victory also capped a sizzling five-game run for St. J, which — after losing three of four games late in the season — went to top-seeded Rice, handed the Knights a 72-54 whipping, and found cohesion that carried them to the crown.
"The last three weeks have been about trust. Chemistry was the key element," McGinn said. "That Rice game, a light just turned on. We knew if we played together we could play with anyone in the state."
Wendell agreed: "We went through a lot as a team this year. At the end of the season you could really just see our chemistry form, and once our chemistry came together there really wasn't any stopping us."
The Hilltoppers, with just two seniors in Carlisle and Carter Hilliker, have been on the rise over the past few seasons. After 15 combined regular-season wins in 2015 and '16, St. J has won 40 over the last three and reached two final fours.
"The climb isn't just one season, it's been a couple seasons trying to get to this point and we finally reached it," said Hayman-Jones, who came from Lake Region last year as a sophomore. "This feels incredible."
Said Wendell: "I am just happy I could be here with this group of kids. I love each and every one of them …
"It's just a special experience."
NOTES: Cowan contributed five points and five rebounds while also altering a number of Rutland shots at the rim. … It's the Hilltoppers' fourth boys state championship (1981, '82, '97). They are now 4-4 all-time in finals. … McGinn, who has 30-plus years of coaching experience at different levels, has never lost in a final. He coached Thetford to two crowns in 2002 and '04 and Oxbow to its lone title in 1993. … Asom and his brother, Rian, played together for the Hilltoppers last season. Rian graduated in 2018. "This is the first year I've been on a team without him," Asom said. "We wanted this so bad last year to share this moment, but unfortunately we were cut short. For him to be here today, even though he's not on the court with me is very special."
SJA (17-7): Nick Guckin 1-2-5, Alex Carlisle 9-5-24, Logan Wendell 1-6-8, Andrew Cowan 2-1-5, Asom Hayman-Jones 6-0-12. Totals: 19-FG 14-21-FT 54.
RUTLAND (18-5): Evan Pockette 3-0-9, Ethan Notte 2-0-6, Eric Coughlin 2-5-9, Jamison Evans 5-1-14, Jacob Lorman 5-2-12. Totals: 17-FG 8-12-FT 50.
SJA 9 11 17 17 — 54
RHS 13 11 14 12 — 50
3-Point FG: S 2 (Carlisle, Guckin); R 8 (Pockette 3, Evans 3, Notte 2). Total Fouls: S 8, R 19. Fouled Out: R, Coughlin.