Chess Team Wins Vermont State Scholastic Chess Championship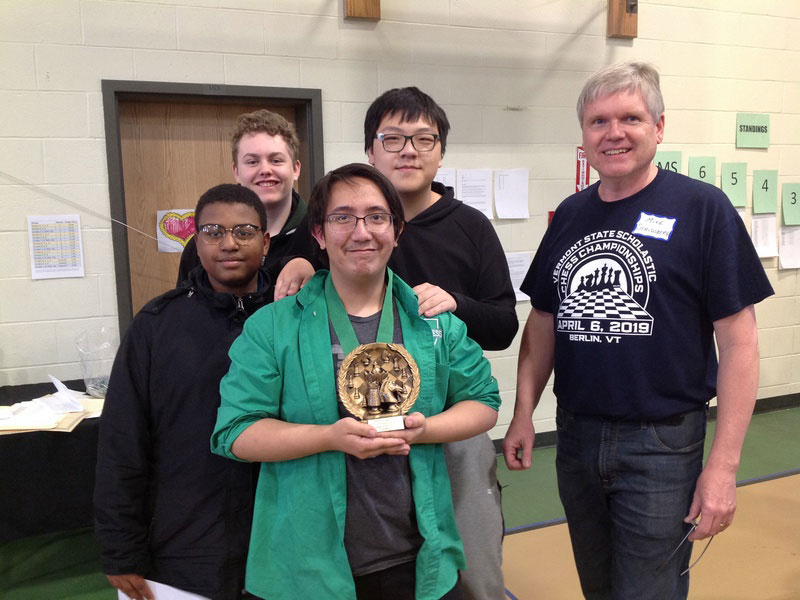 April 15, 2019
The SJA chess team won the 2019 Vermont State Scholastic Chess Championships. Back row, left to right, Zachary Anti, Yunuo (Henry) Xie; front row, left to right, Ahmed Aamir, Joseph Vineyard, and tournament director Mike Stridsberg. Missing from photo: Sergio Sastre-Salgado.
---
The SJA Chess team won the Vermont State Scholastic Chess Championship for the second year in a row. They took first place among the five high school teams competing, edging out 3rd place South Burlington by 1.5 points and Rutland by just one point to capture the championship.
Students who participated in the competition were Sergio Sastre-Salgado '20 of Spain, Ahmed Aamir '22 of St. Johnsbury, formerly of Sudan, Joseph Vineyard '20 from Danville, Zachary Anti '21 of Waterford, and Yunuo "Henry" Xie '20 from China. Joe Vineyard was the top SJA performer; he tied for fifth in the state after capturing 2.5 out of four possible points.
The team's coach, faculty member Tyler Hartshorn, said, "This year we had a smaller team, but the level of chess was much higher both among our team and among other players from around the state.  During the year, each of our players specialized in something unique and then they were able to transfer their knowledge to each other.  Zachary was one of our strongest speed chess players and has more opening knowledge than anyone on the team.  Henry has a very strong understanding of endgames and pawn structures. Sergio developed the strongest position and tactical awareness among our team. Ahmed was a novice at the beginning of the year, and I look forward to him developing his tactical talents.  Joe developed his own variation to a common opening and memorized several lines and strategic themes which others on the team enjoyed trying to counter."